AKG reaffirms RL360° Services strength and service
AKG has once again awarded RL360° Services the highest possible rating for service.
In its latest report, issued in January 2020, the independent actuaries confirmed the five star service rating, as well as a B+ for financial strength. No other international life company has a higher rating for financial strength.
"AKG considers RL360 and the broader IFGL to be a financially strong standalone operation with very strong operational characteristics and a consistent strategy," said the report.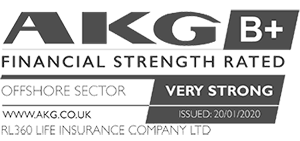 RL360 Director of Marketing Simon Barwell said: "Year on year AKG continues to recognise our strength and also the excellence in the service we provide to our customers.
"We work hard at RL360 for our plan holders and will continue to do so. In an ever changing market, we are proud to be a strong, reliable and dynamic presence."
AKG Financial Analytics Ltd specialises in the provision of ratings, information and market assistance to the financial services industry. The company's reports are designed to provide advisers with the information they need to assess the relative strengths of offshore long term insurers.
RL360° Services is part of International Financial Group, which has over 80,000 policyholders, in 170 countries, in excess of US$12bn in assets under management and employs over 350 staff.*
*Figures as at 31 December 2019.